Archive for August, 2011
August 29, 2011
Comments off
Over the weekend, Wizards of the Coast announced on their official Magic the Gathering website the mechanics for next Magic set to be released in October, Innistrad. And this set does not disappoint. Check it out:
Double-Faced Cards. The double-faced cards are exactly as they sound, a Magic card two both a functional face and back. Yes, that means it does not have the iconic Magic the Gathering back to it. For all the details regarding the rules, please click here.
To put a double-faced card into one's deck is at the same time both easy and complicated. It's easy if you use opaque sleeves. Simply take the card out of the sleeve and flip it around if it "transforms." However, if for any reason you don't use sleeves, there is a check list card that does have a normal Magic the Gathering card back. Simply check off the card you're representing and place it into your deck.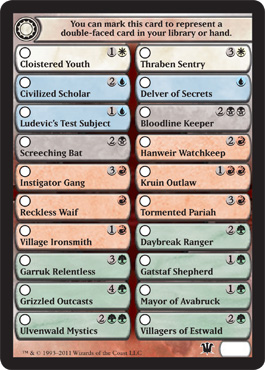 Morbid. The Morbid ability is simple enough. Basically, it indicates and ability that checks whether or not a creature died this turn. Nice and easy. For example: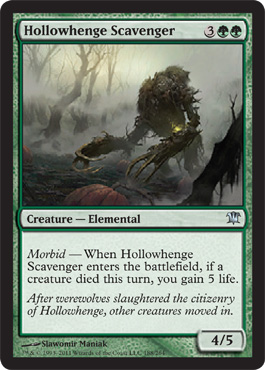 Flashback. A blast from past! This mechanic originally appeared in Odyssey block and makes its return in Innistrad and only appears on Instant and Sorcery cards. You can cast a spell with flashback from your hand as normal. When it's in your graveyard, regardless of how it got there, you can cast it by paying its flashback cost instead of its mana cost. You can do this only at a time you could normally cast the card.
If you cast a spell for its flashback cost, it's exiled as it leaves the stack.
Curses. A "curse" is an Aura (or Enchantment) that enchants a player and causes some kind of ill or nasty effect to them. There are no new or special rules for these cards as they follow all the rules for Aura's that enchant players.
"Fight." For a creature to fight another creature, each deals damage equal to its power to the other. A few finer points:
The damage is dealt simultaneously, and it is dealt by the creatures themselves, so abilities like deathtouch, lifelink, and infect will work as normal.
Damage dealt while fighting is not combat damage, so abilities like first strike won't have any effect.
Fighting doesn't cause the creatures to become tapped.
Only creatures can fight.
No more than two creatures can fight.
If a creature somehow fights itself, it will deal damage to itself equal to its power twice simultaneously.
To learn more about these mechanics, please read Wizards of the Coasts official release. Don't forget to check out the Innistrad spoiler, courtesy of our friends over at MTG Salvation!